In this blogpost I'm going to take a quick look at some of the things I have achieved in 2019 and what my goals are for 2020.
2019 recap
Let's start with some investing metrics.
In 2019 I received a total of $2,559.96 in dividend income. That's an average of $213.33 per month.
In 2019 I realized a total profit of $2,515.88 from selling options. That's an average of $209.65 per month. And I only started doing option trading during the last 6 months of 2019. Pretty solid if you ask me.
This makes for a total of $5,075.84 of passive investment income in 2019. That's an average of $422.98 per month.
In 2019 I added $17,404.70 of new money to my portfolio.
The value of the account on 1 January 2019 was €54,907.64. The value on 31 December was €92,095.50. Minus the newly added money, that means I am up €19,783.16. That's a 28.79% return for the year.
And now some numbers about this blog.
I wanted to write them down, but this is easier: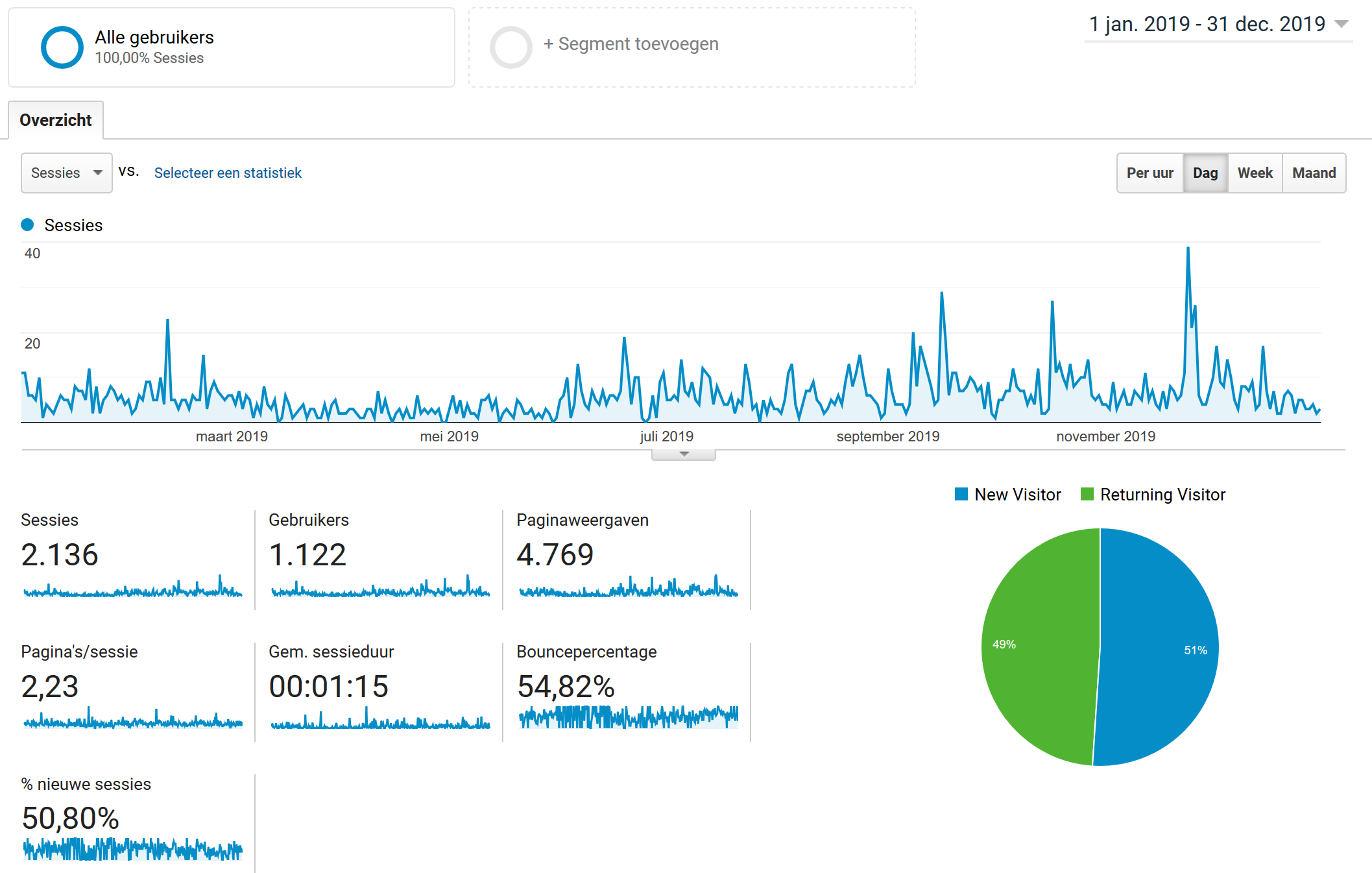 Now, let's take a look at my goals for 2020..
2020
My investing goals for 2020 are:
I'm going to try to get my portfolio value to €150,000. This is going to be a tricky one, because I would either need to get very good returns, or add a lot of new money. But I want to try nonetheless
Get an average of $300 per month in dividend income
Get an average profit of $600 per month from selling options
This should combine to an average amount of passive investment income of $900 per month. That's $10,800 for the entire year
Add a minimum of €25,000 of new money to the account
And these are my goals for the blog:
In 2020 I want to put more time into this blog. Make it more professional and interesting. Not very measurable, but I wanted to put it in here anyway
Quadruple my page views. That would mean roughly 20,000 page views in 2020
Write 10 high quality blogposts
Get 500 email subscribers
Launch my option screening tool that helps finding which options to sell. (If you are interested in this, send me a mail on hello@stashingdutchman.com)
That's it.
What are your goals for 2020? Feel free to leave them in the comments!
Thanks for reading.
SD
Disclaimer: I am NOT a registered investment advisor, financial advisor or tax professional. Any information found on this website is not a substitute for professional advice. This website should be viewed for entertainment purposes only. No guarantees or promises are made regarding the accuracy, reliability or completeness of the information presented. Please consult with an appropriate professional before investing any of your money.