February has come to an end.
In this blogpost I will list my dividend income for the month of February 2018.
In February I received a total of $71.29 in dividend income.
The following stocks paid me a dividend:
British American Tobacco (BATS): $24.35
AT&T (T): $25.07
CVS Health (CVS): $12.75
American Express (AXP): $4.46
Realty Income (O): $4.66
Some of the stocks mentioned above paid me dividend in pounds. For reporting purposes, I calculated these back to dollars using the closing exchange rate of 27 February 2018: 1.3966 (£1 = $1.3966).
All dividends are after dividend taxes of 15%, but I can reclaim this via the dutch IRS, so there's an added bonus there when I do my taxes for 2018 (in March 2019).
Last year February I received $42.89. That means that this years February dividend income is a 66.21% increase from last year February. Even though I didn't receive the big OHI dividend (because I sold it). Nice!
Here's the updated dividend income graph: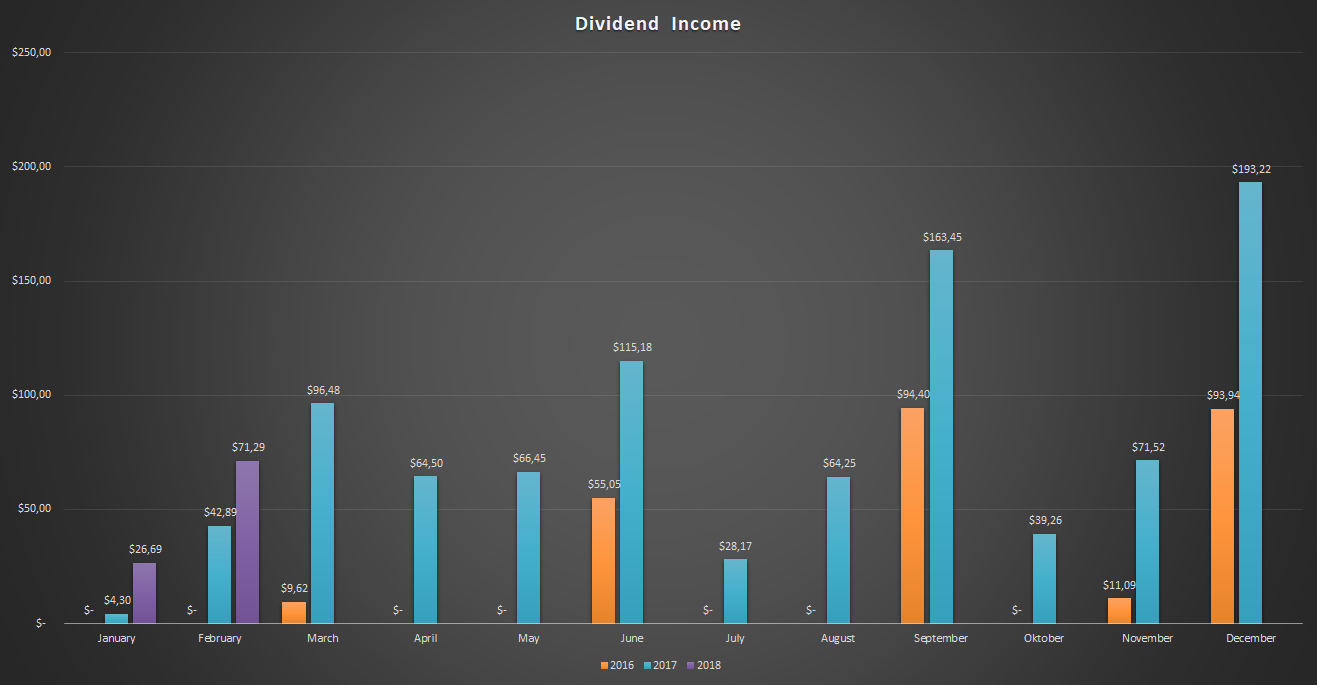 How was your month? Got some nice juicy dividends as well? Make sure to leave a comment.
Thanks for reading.
SD
Disclaimer: I am NOT a registered investment advisor, financial advisor or tax professional. Any information found on this website is not a substitute for professional advice. This website should be viewed for entertainment purposes only. No guarantees or promises are made regarding the accuracy, reliability or completeness of the information presented. Please consult with an appropriate professional before investing any of your money.