I'm sorry for being so late with the December dividend income summary. I'm just so so SOOO lazy.
In this blogpost I will list my dividend income for the month of June 2018.
In September I received a total of $198.94 in dividend income.
The following stocks paid me a dividend:
Royal Dutch Shell (RDS.A): $28.17
Unilever (UN): $18.89
Ford (F): $20.40
Pfizer (PFE): $14.45
Boeing (BA): $14.53
IBM (IBM): $13.34
Johnson & Johnson (JNJ): $11.47
3M (MMM): $11.56
Microsoft (MSFT): $11.73
Realty Income (O): $4.68
Coca-Cola Company (KO): $13.26
NextEra Energy (NEE): $9.43
Qualcomm (QCOM): $15.81
Lockheed Martin (LMT): $11.22
Some of the stocks mentioned above paid me dividend in euros. For reporting purposes, I calculated these back to dollars using the closing exchange rate of 31 December 2018: 1.14816 (€1 = $1.14816).
Last year December I received $193.22. That means that this years December dividend income is a 2.96% increase from last year September. Not the biggest increase. This is for 2 reasons. First of all, I didn't make any stock purchases that would add to this month. And second, the currency exchange rate from euros to dollars was more favorable last year, resulting in Unilever and Royal Dutch Shell producing more dividends last year.
Updated graph
Here's the updated dividend income graph: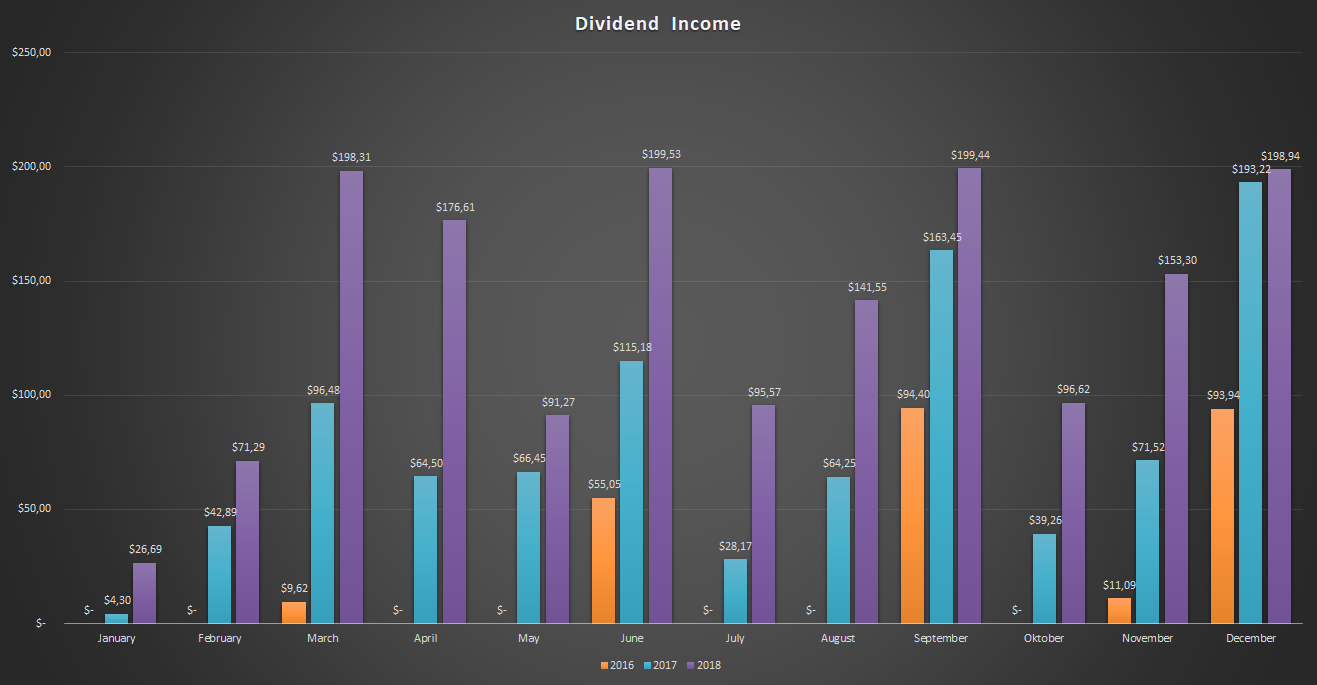 All dividends are after dividend taxes of 15%, but I can reclaim this via the Dutch IRS, so there's an added bonus there when I do my taxes for 2018 (in March 2019).
Purchases / sales
I did not make any buys or sales.
How was your month? Got some nice juicy dividends as well? Make sure to leave a comment.
Thanks for reading.
SD
Disclaimer: I am NOT a registered investment advisor, financial advisor or tax professional. Any information found on this website is not a substitute for professional advice. This website should be viewed for entertainment purposes only. No guarantees or promises are made regarding the accuracy, reliability or completeness of the information presented. Please consult with an appropriate professional before investing any of your money.